Fabled Tour
A unique experience in one of the largest and most spectacular underground wineries in the town of Laguardia. Beneath the Palace of the Samaniego family, at a depth of 7 metres, you will reach Bodega El Fabulista that opens majestically into an area divided into four calados (cellars) dedicated to making, ageing and tasting the unique wines made in our winery.
This is a special visit, in which a completely dramatised version of the author Félix María de Samaniego will appear by surprise as if straight from one of his fables and interact with the visitors, recounting his fables and also his lesser-known erotic tales from the 18th and early 19th centuries: sensual stories and tales related in a respectful manner that will delight the audience.
In addition, and as a great surprise, you might even meet the former legitimate wife of the fable writer, Manuela de Salcedo. In view of her husband's continued wanderings and absences, she is obliged to receive the guests of this medieval winery. Indeed, she will tell you about the true inspiration and origin of Samaniego's erotic tales. Original and voluptuous stories of a brilliant woman from the Enlightenment and well ahead of her time.
These special tours take place every Saturday afternoon at 17:30 and 19:00. Special tours can be arranged as required on a given date for groups, associations, or companies. On these occasions, the tour and the activities mainly target potential MICE customers, conventions, congresses and groups on incentive trips, as well as groups in general of any type.
Equally, these activities can be complemented with a dinner or lunch based on snacks made of local products, 0 km products and Basque-Rioja gastronomy. (Consult prices and availability).
Culture, humour, eroticism, sensuality, wine and food all come together to the delight of the participants in these memorable experiences.
Types of Tours:
(We recommend booking in advance)
The Fabled Tour with the tasting of 2 wines from the winery: €12.50/Pax (VAT included).
Special Exclusive Fabled Tour: Request a quote.
The special exclusive Fabled Tour with Basque-Rioja gastronomy: Request a quote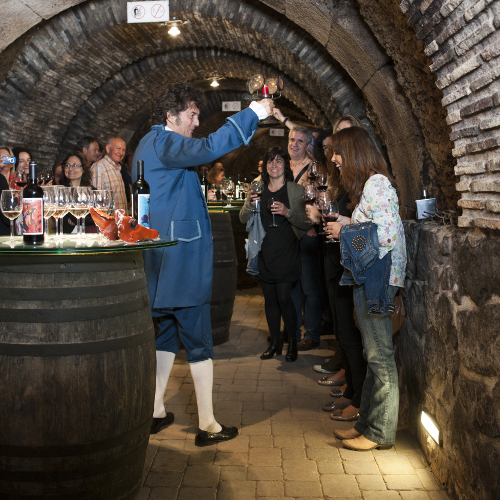 Contact and reservations